Braves Country Battles - North Carolina Baseball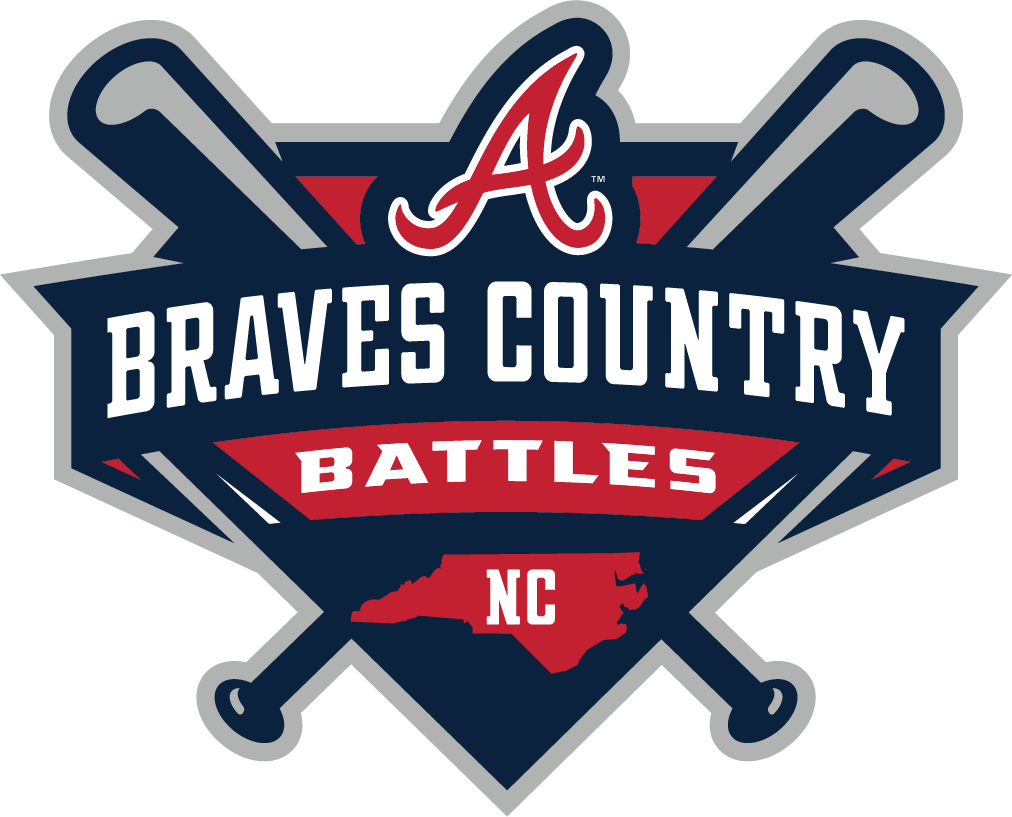 Braves Country Battles: North Carolina

The Atlanta Braves will be bringing youth tournaments to each state in Braves Country, as a part of our Growing the Game initiative. The Braves Country Battles will be focused on creating a fun baseball experience in a friendly yet competitive atmosphere. The Battles will take place in each state within Braves Country and will culminate in Atlanta at the Braves Country Championships (formerly Braves Youth Baseball Classic) in July.
All proceeds from the Braves Country Battles will be reinvested in communities to help grow the game, including: free clinics, uniform and equipment grants and donations, and field refurbishments. We look forward to seeing you at the Battle! Go Braves and Chop On!
June 29- 30

Location: Noel Williams Park
Address: 3504 Zebulon Williams Road, Monroe North Carolina, 28110
For Team Schedules and Score Updates for this LINK
Braves Country Battles_ North Carolina Facility Schedule- Final.pdf

Tournament Format
Pool play tournament that leads into a single elimination bracket to determine a winner. Three (3) game guarantee (weather permitting).
Lodging Accommodations
If you are travel from out of town book your team and family rooms for $99 per night at the Courtyard Charlotte SouthPark- 6023 Park South Drive, Charlotte, NC 28210 - space is limited
Use this LINK
Age Divisions: Playing age is determined by the player's age as of April 30th, 2019.
8U Coach Pitch: $250 per team (max of 8 teams)
9U: $300 per team (max of 8 teams)
10U: $300 per team (max of 10 teams)
Gate Fee: Will be charged $5 per person on Saturday and Sunday. Coaches or players will not be charged a Gate Fee. On Friday night their will be NO Gate Fee.
Friday, June 28th: Welcome Ceremony, Team Photos with Braves Alumni, Skills Challenge-7:00 pm to 9:00 pm
Skills Challenges: Home Run Derby, Golden Arm Pitching, and Fleet Feet Base Running
Teams can sign up five players per skills challenge a google doc for preregistration will be sent out to the coaching staff
Attendance at this event is not mandatory, but it is a fun time for players

Winners of each age division will receive a prize
Saturday, June 29th: Pool Play Games- 8:00 am to 9:00 pm
Each team will play two pool play games (weather permitting)
Sunday, June 30th: Bracket Play and Championship Play- 8:00 am to 9:00 pm
Each team will play at least one bracket game (weather permitting)
Each Participant Receives
Braves Country Battles t-shirt and Braves swag bag
One (1) free ticket to a select Braves game

Additional details will be sent out to coaches on how to redeem the ticket offer
Registration Guidelines

Refund Policy
If your team cannot participate for any reason, a refund will be administered. Please communicate to our staff as soon as a problem occurs so that we can act swiftly to fill your team's spot.
Rain Policy
If rain or other acts of God interfere with gameplay and the game(s) cannot be resumed, the score shall be the same as it was at the end of the last COMPLETED INNING. If the game is a tie and cannot be resumed during the scheduled time, it will end in a tie. Please be aware that the game schedule will stick with the set playing times when games resume. There will be no makeup games due to rain unless it is the championship game where a mutual time between the Braves and coaches will be agreed on. If a game cannot be played due to weather, the game will be canceled.
Use the form below to filter by sport, season, day(s) and/or location; or scroll to view all programs.
---